This is an old revision of the document!
---
Table of Contents
Office 365: Installation
To install the current version of the Microsoft Office Suite (Word, Excel, Outlook, etc.) on your computer, please see the appropriate instructions below. Before performing an install or upgrade, please make sure your data is saved, and all applications are closed. Installation may take approximately one hour to complete.
Olin Windows Computers: On-Campus

Olin Mac Computers: On-Campus

Olin Computers: Off-Campus

Non-Olin Personal Computers
---
Olin Windows Computers: On-Campus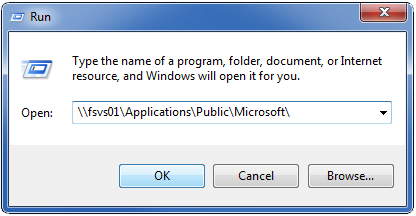 After logging into your computer, from the Start Menu, select Run… and copy this server location into the window, and click OK:
\\fsvs01\Applications\Public\Microsoft\

Right-click on Office365-install.cmd and select Open. Follow the prompts to complete the installation. You may need to restart your computer after the installation is completed.
Please note:
Pinned shortcuts will break, so please take note and delete them and then recreate them after you have installed the O365 Office applications.

If you have Microsoft Visio or Microsoft Project installed, these will be automatically un-installed as part of this process. Please contact the IT Helpdesk to have these re-installed.

Indexing the newly installed software might take a few minutes.
---
Olin Mac Computers: On-Campus
Coming soon….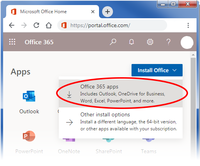 ---
Olin Computers: Off-Campus
Non-Olin Personal Computers