Table of Contents
Office 365
Olin college is in a pilot phase that is moving forward to roll out Office 365 (alternately called O365) for the community. Information will be added here as we progress in the roll out.
UPN - UserPrincipalName
The User Principal Name, or UPN, is used to login to Office 365 sites and services and is in this format: "username@olin.edu" (e.g. Joseph Student = jstudent@olin.edu). It will be added to your mailbox as an additional email address and eventually become your primary email address. This is necessary since Microsoft's O365 sites and services prompt users to login with their email address and therefore will be easier to remember. When an O365 site prompts you to login with your email address, it's expecting your UPN.
Migration to the O365 Exchange Environment
When your email is migrated to you should not notice any interruptions until the migration is complete. Then you should see a new window stating that you are required to close and restart your email client. Make sure your username is in the UPN format(e.g. Joseph Student = jstudent@olin.edu) not listed as domain\username (e.g. Joseph Student = olin.edu\jstudent). You will have to do this on all your email clients. If you have additional mailboxes configured in Outlook that haven't been migrated, you will likely be prompted to login again via a popup window. This is because you need to authenticate to the two different mail locations, our systems on campus and the cloud.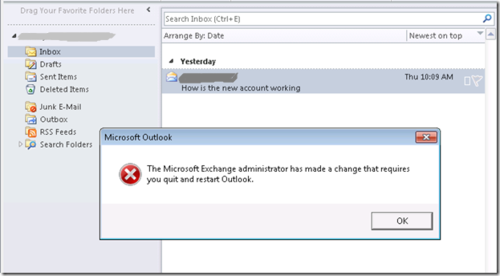 O365 Device Setup
Mobile device and other clients will need their configurations updated to point to Exchange online. The following guides may be followed noting two exceptions:
Office 365 Mail Server: outlook.office365.com

Username must be in UPN format (noted above): username@olin.edu
Smartphones: Configuring Olin Office 365 Email
Items of Note
If you encounter unexpected difficulties we are unable to address, your mailbox can be migrated back to campus Exchange systems though we don't expect this to occur.
Web access to your migrated mailbox will now be through O365:

https://portal.office.com

to Login, sign in with your UPN or new email address: username@olin.edu and existing password

If you have registered for Microsoft services using your current Olin email address (firstname.lastname@olin.edu), those services will remain separate from any new O365 services associated with Olin.
Known issues and Resolutions
Public Calendars
You will not be able to get to calendars that live in the Public folders from within the O365 Portal, but your local client should still have the ability to open and interact with them. If not:
When opening public folder calendar in Outlook from calendar view receive error: "Microsoft Exchange is currently busy. If this message is still displayed in 30 minutes, contact your Exchange administrator"
Or if Favorites shows number of items populated on calendar, however it errors stating that it cannot open the folder.
Or if All Public Folders > Calendars shows similar error that it cannot open folder.
The solution could be to rebuild your Outlook profile: contact the Help desk and we will help you resolve this issue.
Rules: Export and Import
If your existing Outlook rules do not work after migration, you can try exporting and re- importing them. Some rules may need to be edited manually to get them to work again. When you export rules, they will be saved in a file with an .rwz extension. This file type can only be opened and used within Outlook.
Click the File tab then select Manage Rules & Alerts.

Click the Options tab then select the Export rules button. Change the name and take note of the save location (or save it to your desktop temporarily) Click Save.

to import your rules:

Click the Options tab then select the Import rules button. In the "import rules from" window go to the save location you chose and then click Open. In the Options windows click the "OK" button and then the "Apply" button in the rules and alerts window.
Post Migration
It may take a few minutes for your local client ( Outlook, Apple Mail) to fully sync and that may make initial usage appear slow. This clears up quickly.
Receiving messages may be microscopically slower as the mail server is now in the cloud and not on the Olin network.
A small number of test subjects found it necessary to remove and re-add account credentials on mobile devices.