This is an old revision of the document!
---
Olin IT supports six Mobile Presentations Units (MPUs) on campus. The units in Milas Hall are located in MH373, MH212 and MH321. There is also one roaming unit that can be reserved for Milas Hall by emailing helpdesk@olin.edu. In addition, there is one unit in the conference room at Edison house one located in the Board Room in the Campus Center. These units consist of a large screen LCD, web camera,microphone and a computer on a mobile stand. They are for use in the room they are stationed in. The units have the following information on a quick start tip sheet: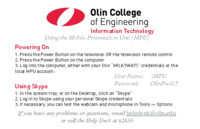 We would be glad to walk through the process with you so if you're interested in a quick tutorial, please contact us at helpdesk@olin.edu or ext. 2430 to set up a meeting time.