This is an old revision of the document!
---
Printing to Olin Printers from a Personal Computer
These are instructions for setting up an Olin printer from a personal computer running Windows XP that is plugged into the network, but is not on the Olin.edu domain.
Go to Start Menu > Run and enter: \\printvs01

This connects your desktop to the print server. Click OK.

A login screen will appear.

Username: olin.edu\username

Password: and your network password.

Click OK

From the taskbar Click on Start > Settings > Printers and Faxes

Click on "Add a Printer" from left column

Select "a network printer" and click next

Select "Find a printer in the directory" and click next

Select Entire Directory and click "Find Now"

Please Note: All printers on campus follow this established naming convention.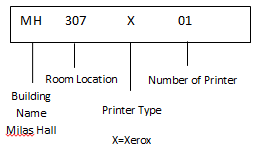 Double click on the printer you wish to add.
Next you are asked if you wish this printer to be your default, select Yes or No, click on Next.

Click on Finis