Directions for Using the Dubbing Station
Dubbing Station Guide - VCR
The following document will go over use the dubbing station that can be used for editing DVD media. For further assistance, contact the Help Desk (helpdesk@olin.edu or x. 2430).
The Players:
The dubbing station currently supports VHS/DV to VHS dubbing and DVD to DVD dubbing. Please contact the Help Desk for assistance with other setups.
Directions for Dubbing (VCR): VCR Players being used:
SOURCE → JVC SR-V530 (NOTE: REMOTE LABELED AS VCRS)

DESINATION → Panasonic – AG-2580P (NOTE: REMOTE LABELED AS VCRD)

It is recommended that you do not use the remotes. They are available but both VCR's receive signals at the same frequency.
Directions for Dubbing:
Make sure the RCA cables labeled VCR are connected to the TV Set (see image below)

Use Y 2 to 1 connector.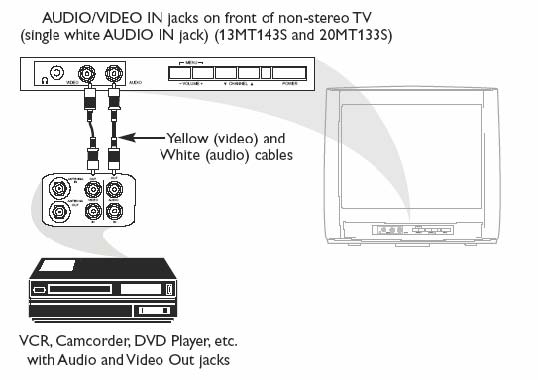 Turn on TV and tune it to Line Input.

Turn on Source and Destination VCR players. Place the VHS or DV tape to be copied into the Source player, and your blank VHS into the Destination player.

Using the Destination VCR, press the Channel buttons (located under the VHS bay) until you reach the L-1 input.

Using the Source VCR player, find the point on the VHS or DV tape from which you wish to begin copying.

Once you are ready to record, press record on the Destination VCR player, then press play on the Source VCR player.

When finished recording, press stop on both players.

Repeat the editing process until you are finished. (To copy multiple clips, repeat 5-7 until finished)