This is an old revision of the document!
---
Table of Contents
Office 365
The Microsoft Office 365 suite provides all Olin students, staff, and faculty members with a full range of features including 1 TB of cloud storage, 5 downloads of Microsoft Office Pro Plus on a combination of Olin computers, personal computers (Mac or PC) and iOS/Android devices. Using web-based versions of Microsoft Office applications, you can simultaneously edit documents with others at the same time.
Olin IT has released a select set of features to students, staff, and faculty members. Those features are:
OneDrive for Business cloud storage - 1 TB storage per person

Office 365 Email - accessible from your phone, tablet, or computer using an email app.

Office Pro Plus - download newest version of Word, Excel, and PowerPoint to your personal PC or Mac.

Office Online - create/edit/share Office documents using a web browser

Office for smart phones and tablets - available from the appropriate app store.
Ultimately, we will add more Office 365 features for use by the Olin community when they are tested, and we are able to provide technical support for those services.
Important Links
Online Training Resources
UPN - UserPrincipalName
The User Principal Name, or UPN, is used to login to Office 365 sites and services and is in this format: "username@olin.edu" (e.g. Joseph Student = jstudent@olin.edu). It will be added to your mailbox as an additional email address and eventually become your primary email address. This is necessary since Microsoft's O365 sites and services prompt users to login with their email address and therefore will be easier to remember. When an O365 site prompts you to login with your email address, it's expecting your UPN.
O365 Exchange Email
Once your email is migrated you should see a new window stating that you are required to close and restart your email client. Make sure your username is in the UPN format(e.g. Joseph Student = jstudent@olin.edu) not listed as domain\username (e.g. Joseph Student = olin.edu\jstudent). You will have to do this on all your email clients. If you have additional mailboxes configured in Outlook that haven't been migrated, you will likely be prompted to login again via a popup window. This is because you need to authenticate to the two different mail locations, our systems on campus and the cloud.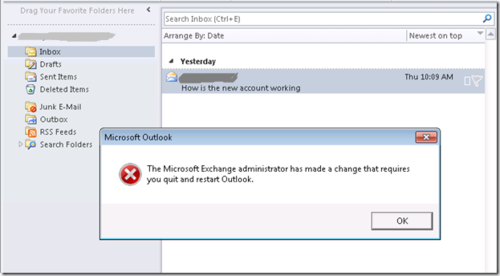 O365 Email Device Setup
Mobile device and other clients will need their configurations updated to point to Exchange online. The following guides may be followed noting two exceptions:
Office 365 Mail Server: outlook.office365.com

Username must be in UPN format (noted above): username@olin.edu
Smartphones: Configuring Olin Office 365 Email
Support and FAQs
Important Links
* https://portal.office.com/: Microsoft O365 Portal: Access all Office 365 apps here * https://outlook.office.com/: Office 365 Webmail interface
Web access to your migrated mailbox will now be through O365:

https://portal.office.com

to Login, sign in with your UPN or new email address: username@olin.edu and existing password

If you have registered for Microsoft services using your current Olin email address (firstname.lastname@olin.edu), those services will remain separate from any new O365 services associated with Olin.

Email Forwarding can also be set up through this O365 Portal. Once logged in as directed above, select the Outlook icon and then choose the settings gear icon in the upper right corner. From the settings pane, select the mail option at the bottom under Your App Settings. The mail options pane will now open on the leftt hand side. Go to Accounts and then choose forwarding. Select the option to forward mail and enter a forwarding mail address.
FAQs